Your Go-To Moving and Storage Solutions in NYC Since 2015
Expo Movers and Storage, conveniently located in Long Island City, offers exceptional moving and storage solutions to both residential and commercial clients across NYC. Since 2015, our fully owned and expertly maintained facility has been the perfect alternative home for your valued possessions. Whether you're scaling up, scaling down, or transitioning to another city, our comprehensive service ensures your belongings are securely stored until you're ready to reclaim them.
Leveraging our industry expertise and state-of-the-art resources, we excel in disassembling, packing, wrapping, safeguarding, labeling, and inventorying all items entering our storage.
Our service is personalized to your unique needs: choose between a pick-up or self-delivery service to bring items to us directly. Why not upgrade your storage experience? Request your free quote today and discover why 10,000+ New Yorkers entrust us with their possessions.
Why New Yorkers Trust Us
Expo Movers and Storage offers a highly secure storage facility with limited access to our staff members. We do NOT rely on carriers or third parties. Our facility features round-the-clock security and video surveillance, a digitally labeled inventory system, and climate-controlled storage. Plus, we are fully licensed and insured.
With our transparent pricing and various services, including pick-up, self-delivery, packing, unpacking, handyman, and tailored services, we stand unmatched in our service flexibility.
Flexible Short-Term Storage
Need storage for a day, a week, or an indefinite period? We've got you covered. There's no minimum period required to avail our storage services.
Convenient Long-Term Storage
Store as many items as you wish for any duration with Expo Movers and Storage. With our dedicated storage facility, we're fully equipped to cater to even the most comprehensive storage needs.
Prompt Emergency Storage
Unexpected situations don't catch us off guard. As an efficient and organized moving company, we always maintain a ready team to help in emergencies.
Effortless Overnight Storage
Looking for storage solutions during your move? Our overnight storage service provides a seamless solution, allowing you to focus on your move while we ensure the safety and security of your possessions.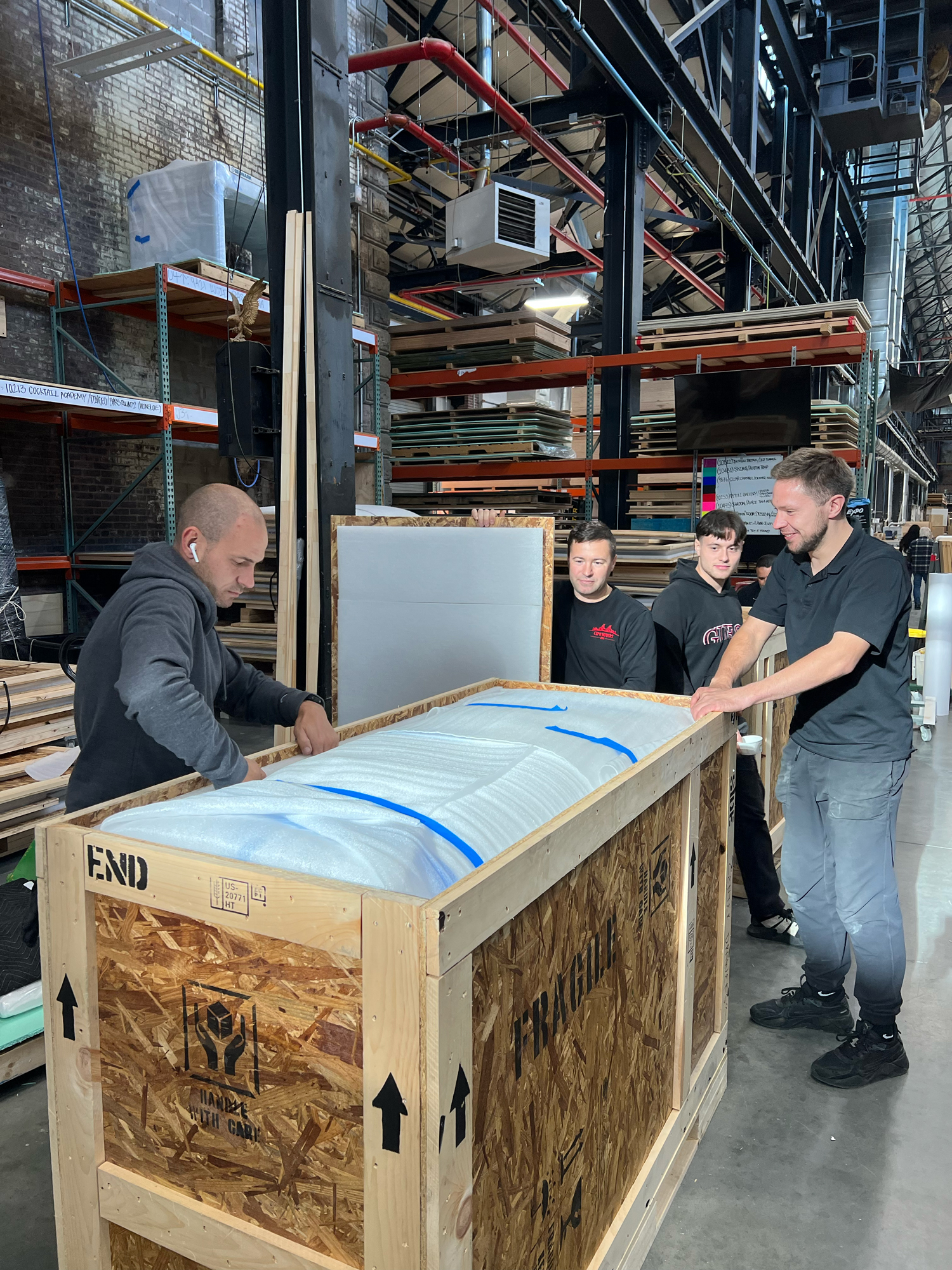 FAQ about Expo Movers and Storage's Solutions
Here are answers to some of our customers' most frequently asked and important questions when considering our storage solutions.
Is Expo Movers and Storage licensed and insured?
Yes, Expo Movers and Storage is licensed and insured by the U.S. Department of Transportation, The New York State Dept. of Transportation, the Federal Maritime Commission, and holds an excellent rating with the Better Business Bureau.
Do you provide boxes?
Yes, boxes in various sizes – small, medium, large, china, and wardrobe boxes – can be purchased through your relocation consultant.
Do you provide a packing service?
Indeed, Expo Movers and Storage provides comprehensive packing and unpacking services. You can choose our full or partial packing service for specific areas of your home, like the kitchen.
Do you provide a storage service?
Yes, we offer full-service storage solutions. We accommodate emergency, short-term, and long-term storage needs. Your items can be stored in our climate-controlled storage facility for a few days, weeks, or even longer.
How will you protect my goods during transportation?
Our team will disassemble, wrap, crate, and protect all necessary items. Some services are complimentary, while some may incur an additional charge. Our sales representative can provide further details.
Will you reassemble my furniture upon delivery and place it where needed?
Absolutely. Our expert movers will reassemble anything disassembled at the origin point. We'll place each item exactly where you need it, ensuring all labeled boxes are placed in their appropriate rooms.
Will my price change?
No. At Expo Movers and Storage, we believe in transparency. We provide guaranteed and set prices, which include all aspects of the move process. There will be no hidden fees or last-minute cost additions.
Will you provide a COI if needed for the delivery management?
Yes. Understanding the unique needs of city living, we can provide all necessary Certificates of Insurance (COIs) for each management company involved in your move.
Do you provide Full Value Protection coverage?
Yes, for added peace of mind, you can opt for Full Value Protection coverage for your move. This can be arranged either through one of our trusted moving insurance partners or via our in-house Full Value Protection option.
Your move doesn't need to be stressful. Choose Expo Movers and Storage for a smoother, more enjoyable moving and storage experience in NYC. Our facility, conveniently located in Long Island City, is designed to provide you with a seamless, stress-free solution, whether you need short-term storage during a move, long-term storage for items you're not ready to part with, or emergency storage when unexpected situations arise.
At Expo Movers and Storage, we're more than just a storage facility; we're a team of dedicated professionals committed to providing the best moving and storage services in NYC. Experience the Expo Movers difference today – because your possessions deserve the best.
For further queries or to request a free quote, contact us today. Experience why 10,000+ New Yorkers trust us with their possessions.