Sofa Disassembly Services
What can you do with that new sofa now that it doesn't fit into your home?
What if you want to bring your favorite couch to a new place, but it won't make it through the front door?
Sofa disassembly services are the ideal solution to solve this problem. Once inside, our team can put your furniture back together so that you can enjoy it again!
Whether you have a narrow stairway to navigate or tight turns to manage, we'll ensure that your sofa is ready to provide the help you need. Our sofa disassembly services include sofa-beds and daybeds.
How to Disassemble a Sofa Safely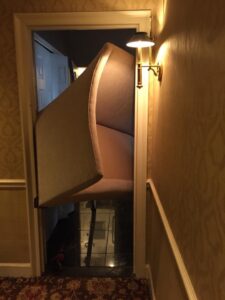 Let's talk about moving day.
After getting your sofa out of your old place successfully, you've arrived at your new apartment to discover that it won't fit through the door.
Some people might take their sofa apart at this point to throw it away. However, if you can disassemble it correctly, you can take it apart and put it back together again!
Although every couch is a little different, you can expect our team to follow these generic steps when working with your furniture.
1. We carefully remove the cushions.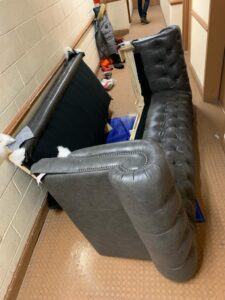 Once the cushions are removed from the couch (sometimes they remain affixed to the unit), we can unscrew the legs from the furniture.
If they're bolted down to the frame, we've got the tools needed to remove them safely. Once that step is complete, we'll pull out the staples that hold the sofa's covering.
2. We expose the sofa's frame.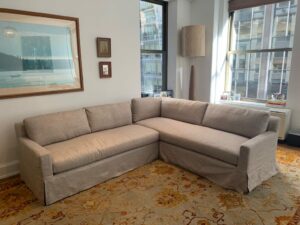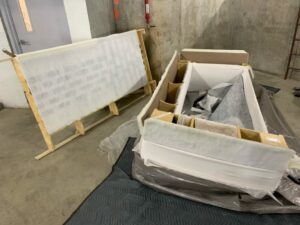 Once the materials get rolled back from the couch's frame, we'll expose the sofa's foundation to continue the disassembly process. Some designs have staples that keep the unit's arms covered, which may require removal.
We'll work up high enough to find the fasteners that hold the sofa's arms to the base. Depending on the couch you own, it may use screws or bolts requiring an Allen wrench, screwdriver, or socket.
We undo as little upholstery as possible to ensure a fast rebuild once the sofa is in your home.
3. We handle the springs.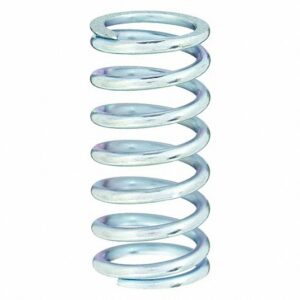 If you have a sofa bed that requires disassembly, we'll work with your manufacturer for the specific instructions that apply to your unit. For example, some mattresses use spring-loaded features that can be under intense tension.
Taking them apart without having appropriate safety precautions in place could be dangerous. Therefore, we highly recommend consulting our team before attempting this disassembly at home.
4. We take apart the frame.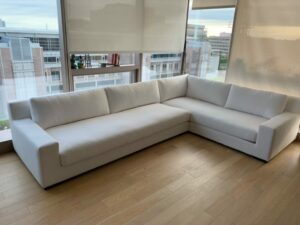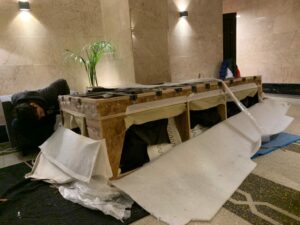 In some homes, taking the arms off of the sofa is the only step required to navigate through doorways, stairwells, or elevators. If that is the case for your situation, our team will place your furniture in its new spot, finish the reassembly, and let you enjoy the fruits of the work!
It might be necessary to take a seat from the back of the sofa to fit into smaller spaces. Next, we'll find the bolts or screws that keep these items together so that the furniture can get moved successfully.
5. We clean up the mess.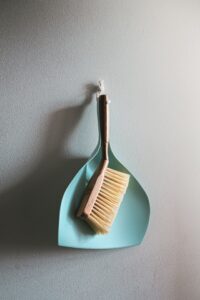 Once your professional sofa disassembly services are complete, our team cleans up whatever mess gets left behind. Of course, that means your only job is to relax on your favorite couch!
Some Words of Advice About DIY Sofa Disassembly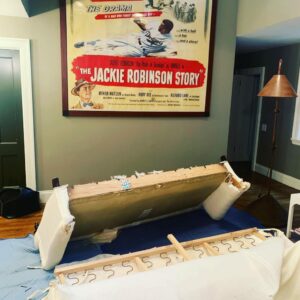 We know how frustrating it can be to purchase some new furniture, only to discover that it won't fit in your home like you thought it would.
If the issue involves your doorways, you can often get away with removing only the legs on your sofa to have it fit.
Several entry-level furniture distributors use legs that unscrew directly from the frame to meet this need. Some designs even let you take care of this chore by hand. Please remember to measure the rest of the structure before proceeding to avoid damage.
When working with daybeds, it sometimes helps to treat the furniture like a traditional mattress frame if you take the individual pieces out with labels as to where they go.
Our team uses a diagram of what we find when working with your sofa to ensure it gets put together correctly. Each step follows the manufacturer's instructions when available to create a safe experience.
Whether your sofa is a brand-new piece or merely new to you, we'll help get it into or out of your home successfully. So let us know what you need, and we'll get you onto our schedule at a competitive price!