If you need to move to NYC, dozens of companies say that they can meet your residential or commercial needs. Although that statement is conceivably true, you'll discover that some agencies do the work better than others.
You'll want multiple quotes anyway to compare services, so here are the best moving companies in NYC to consider hiring.
List of the Best Moving Companies to Hire in NYC
1. Expo Movers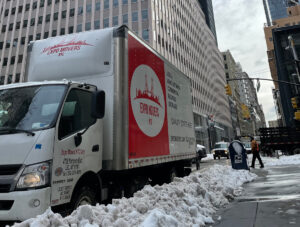 Anyone can lift boxes, pack items carefully, and safely transport your belongings. A few companies can disassemble furniture and reassemble it, manage interstate moves, or help you get set up once everything arrives. Only a handful provide these opportunities with professional storage services. We put all of that together while offering the best customer service experience in the city.
We're one of the few agencies in NYC that specialize in white glove moving services. If you have something unique and priceless, you can trust the Expo Movers team to get the job done right.
2. Roadway Moving
This moving company in NYC focuses on logistics. Since it can be stressful to plan your transition from one place to another, they work hard to ensure the work goes as smoothly as possible. They've been in business since 2008.
3. Dumbo Moving and Storage
You have to respect this agency for how much it has grown over the years. It began with a single truck and a dream in 2007, but they now have about 60 trucks and a fleet of vetted movers to assist.
4. Piece of Cake
You can't miss the bright pink trucks of this moving company when they pass by on NYC streets. Their branding and business approach is intended more for singles and young professionals, but they get the job done professionally.
5. Get There Moving
You can choose hourly-based moving rates or flat-rate options when selecting this NYC moving company. They work hard to earn your trust by focusing on business ethics, improved logistics, and overall experience. You'll find them to be an excellent choice to consider when seeking competitive quotes.
6. Stride Movers
Although this company didn't get started until 2016, its goal is to offer personalized services with every job. They offer packages with their pricing system, ranging from loading and unloading to garbage removal. It's one of the few female-led businesses in our industry you'll find in NYC, and they have a comprehensive training program.
7. Veteran Movers NYC
Founder Jesse Gartman has emphasized hiring U.S. military veterans with this company since it started in 2011. Based out of Brooklyn, you've got to love the fact that they emphasize toughness, sensitivity, and loyalty. They joined forces with Roadway Moving recently, so you'll also want to consider that agency's structure during your planning stages.
8. NYC Great Movers
With a 4.9 rating on Google covering more than 1,100 reviews, you cannot ignore this NYC moving company's reliability. Almost everyone says they are punctual and responsive. They provide a straightforward service that protects your items, transports them safely, and comes with occasional specials when you book your services.
9. J.P. Urban Moving
Although they don't have as many online reviews, you will find this agency fast and friendly. It's a family-owned company that seeks to offer an affordable price for every moving job that's out there in the city.
10. Rabbit Movers
If you can make it in NYC, you can be successful anywhere in the world. Although creative types come here each month to earn their big break, that doesn't mean success is right around the corner. This moving company reaches out to writers, musicians, artists, and others who would instead move furniture than wait tables.
11. Man With a Van
Paul Kennedy built this NYC moving company up from a single-vehicle in 2000. He started in cargo delivery, eventually expanded into household moving, and now operates here and in Philadelphia. This company has one of the best reputations you can find in the city today.
12. Twin Brothers Movers
If you require automobile shipping services with your move, you might consider giving this small business a call. They're based in Manhattan and cover a 30-mile radius with their services, so there are some limitations to consider. You can also find residential or commercial moving options and comprehensive packing services.
13. Reputable Moving and Storage
If you plan on moving anywhere in NYC or the general region, you might consider giving this team a call. They are a full-service crew that handles residential, long-distance, and commercial moves with storage availability.
The best movers in NYC will treat your belongings with professionalism from start to finish. If you need any help, be sure to give them a call today!