How to Pack a Mattress for Moving
Most items you need to move on moving day can be boxed, deconstructed, or modified to make the packing and unpacking process more manageable. Mattresses are not one of those items.
Moving mattresses can be challenging, whether packing and transporting them yourself or hiring professional movers to do the work for you. The information here will help you know how to move one, use the proper techniques, and protect everything from damage.
Start By Gathering Moving Equipment and Supplies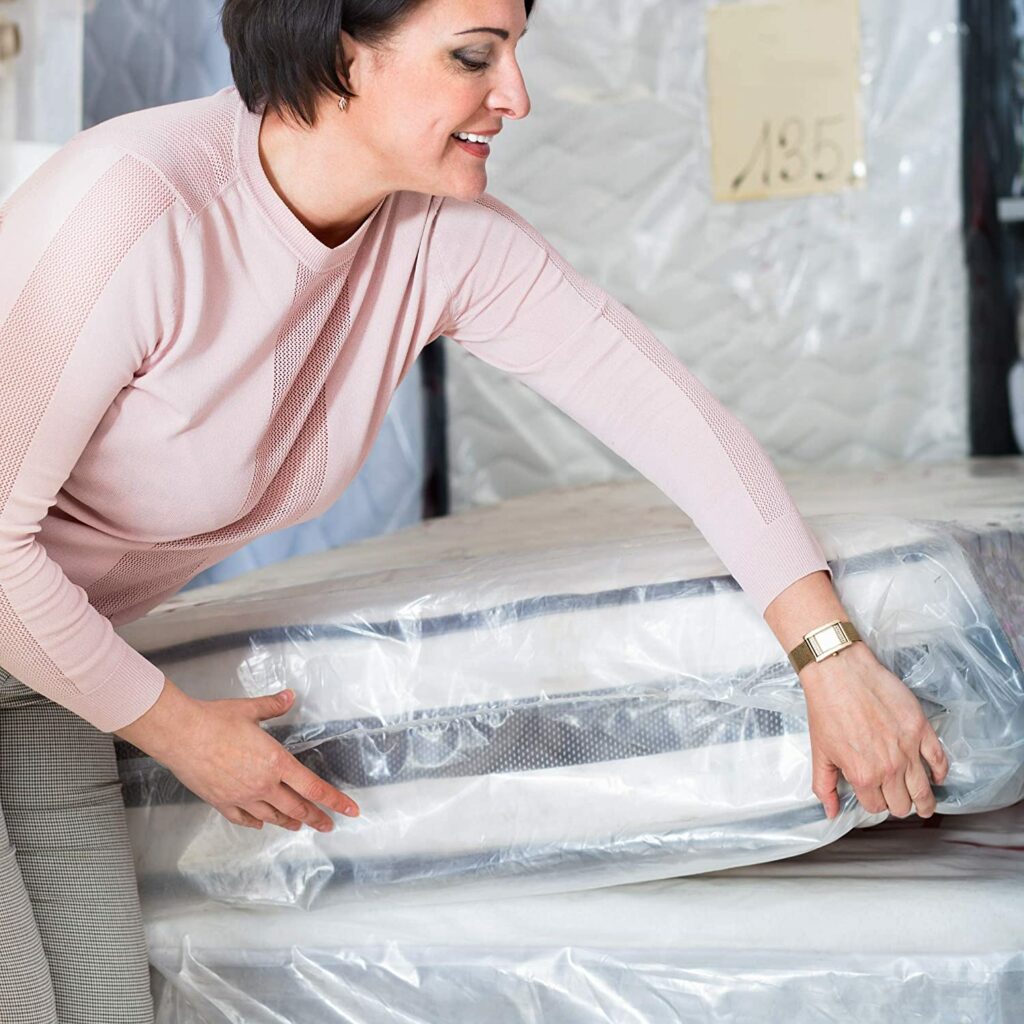 Each mattress should get packed into a protective bag sized for the product you have at home. It helps to have packing tape to reinforce the work and deliver extra protection. You can even use the stretch wrap on the bag for additional support.
You might need a dolly or a hand truck to transport the mattress. Tie-down or ratchet straps will secure the item in your vehicle. You'll also need some furniture sliders and scissors available when doing the work yourself.
Prepare the Bed for Moving the Mattress
You might consider upgrading your mattress if it is over eight years old. Some products can be donated if they still have life in them, but those that are worn out can be discarded. Then a new one can be delivered to your new address.
If you plan to keep your mattress, you'll want to prepare the bed for transport. Here are the steps to follow.
Take everything off the bed and pack the linens and pillows separately.
Walk the path you'll need to follow to take the mattress out of the home to ensure no obstacles are in the way.
Pack the mattress in the bag, seal it with tape, and use stretch wrap if desired.
Wrap the box spring the same way if you have one.
Once everything is in place, you're ready to lift the mattress with another set of helping hands. Only lift it enough to have it clear the floor without running into things or rubbing against surfaces.
You can use the stair rail or wall for support if there aren't plastic pieces holding the corners or seams in place.
Drag the Mattress If You're Alone
If you move a twin or toddler mattress by yourself, you can probably carry it to the moving truck or vehicle without a hassle.
When you need to move a full, double, queen, or king mattress alone, the first step is to protect it with a heavy-duty cover that gets taped into place. Reinforce the shape with stiff cardboard on the front and back, then use straps to secure it.
Drag the mattress on its side wherever possible. When you're on the stairs, align it next to the rail or wall. You'll want to stay above it to let gravity help while staying out of the way if it falls.
Once you get to the truck, drag or slide it up the ramp. If you don't have one, lift one side so that it gets to the bed, then lift the other and push it into place.
Transport the Mattress on Its Side Edge
Most larger mattresses move better when they're transported on their side edge. This strategy applies to virtually all spring and coil types.
Load the mattress so that it rests along the vehicle's side wall before strapping it down securely. You can also slide it between two larger furniture items to ensure it remains secure.
Memory foam mattresses might need to be stored or moved in specific ways to avoid violating the warranty terms. In this situation, you'll need to check your owner's manual to see what the safest possible move is with your bed.
If you have a long-distance move to coordinate, it might be easier to ship the mattress to your new address. That value is often better when managing a DIY moving experience.
Now You Can Move the Rest of the Bed
After moving your mattress and box springs to the truck, you're ready to bring the rest of the bed. You'll need to disconnect the headboard and footboard, keeping track of what bolts and screws go into each location. It helps to have some plastic bags available that you can label and tape to each area to prevent confusion or hardware loss.
Dismantle the slats as needed. Some systems are pre-joined, allowing you to remove the item from the frame and complete the work.
If you need help with your bed, Expo Movers delivers furniture moving services, plus much more! Our services simplify the moving process so that you can focus on the next job that needs to get done. From mattresses to pianos, we'll be happy to show you all the possible benefits of having professional movers be there for your next move.
SHARE