How to Protect Hardwood Floors When Moving Without Leaving Scratches
Categories:
Furniture Movers
Moving Tips
Hardwood floors deliver a beautiful surface that adds value and comfort to every home. With the various species available to consider, you can turn any room into a place of paradise that supports you and your family.
When it is time to move, hardwood floors can become a liability. Whether you're bringing furniture into the home or out of it, the risk of scratching is enormous.
If you know how to protect hardwood floors when moving without leaving scratches, you'll get more of your security deposit back – or fewer complaints from the buyer.
Best Ways to Move Furniture Without Scratching a Hardwood Floor
1. Lift and move the furniture.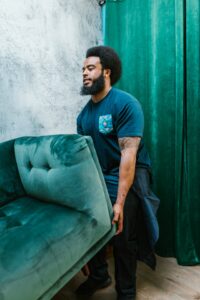 It might be tempting to push the furniture in each room when moving it, but that effort is what leads to the most scratches. Your best option is to lift and move each item as much as possible. You'd be surprised at how quickly lightweight things can leave unwanted marks behind on your flooring.
Although you've heard it before, the advice still bears repeating: lift with your legs and not your back.
2. Lay a protective covering on the floor.


Since your moving day will likely bring lots of traffic into your home, it helps to have a protective covering over the high-traffic areas. You can find several options available in this category, ranging from a plastic film, Ram Board, or even cardboard that you secure with painter's tape.
3. Use furniture sliders to move heavy pieces.
That beautiful hutch and drawer combination that your great-grandmother left you is an heirloom piece that weighs about 800 pounds. Trying to lift that item to carry it across the room is an impossible task! You can lift each corner instead, place a slider underneath, and glide across the hardwoods instead.
Once you've reached the front door, you can transition the furniture to a four-wheel dolly to make it easier to load the heavy item.
If you don't have sliders, consider using socks to prevent scratches on your hardwood floor.
4. Take advantage of an item's wheels.
Some furniture items come with non-marking wheels that shouldn't leave any scratches on your hardwood floor. Another option on older pieces is a ball caster. Anything else can get sand or dirt trapped into them, leaving scuff marks behind after moving the item. In this situation, you'll want to consider using sliders or pads to prevent damage.
Caster wheels are made from almost any material, including forged steel. Some of them are not as effective at rolling on some surfaces as others. Here's are the material options to review before taking your furniture across a hardwood floor.
Finished Wood Floor: Plastic, urethane-coated iron, or rubber wheels are the best.
Finished Concrete Floor: Plastic, urethane-coated iron, or rubber wheels work better.
Ceramic Tile Floor: Plastic, urethane-coated iron, or rubber wheels are still your top choices.
Rubber, Asphalt, or Vinyl Tile Floors: Plastic, urethane-coated iron, or rubber wheels are usable on these surfaces.
Solvents, Grease, or Oil: When you're in an environment with potential slick hazards, you'll want to use high-temperature nylon, steel, iron, or urethane-coated iron wheels.
Inorganic or Alkaline Flooring: Urethane plastic, high-temperature nylon, or urethane-coated iron caster wheels are usable.
Metal and Metal-Chip Flooring: Iron, polyolefin, and steel wheels won't leave marks on this surface.
5. Anything can help when it provides a helpful barrier.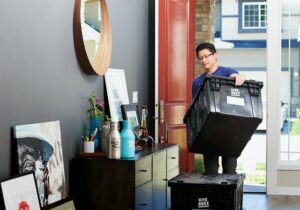 Almost anything can help you protect hardwood floors when moving into or out of a home. Most DIY companies sell blankets and furniture pads that you can use to protect sensitive spaces and prevent damage. Another option is to use old comforters or rugs to slide your items down the hall and out the door.
If you have something heavier than the average person can lift alone, a two-wheel dolly or an appliance dolly can make it easier to get the truck loaded and unloaded.
6. Double-check everything before starting the move.
Before you move anything, it always helps to double-check the work. If possible, have someone else review everything to ensure that nothing gets missed. While you're at it, the various adhesive felt pads and other items should get some attention to avoid putting scratches in your new place.
When you want to protect a hardwood floor when moving, the best steps are always proactive. If you aren't walking on this surface, it is much harder to scratch it! Adding the preventive measures with your furniture ensures that you'll finish your move and get into your new place safely.
SHARE