7 Best Places to Live in Queens
Categories:
Moving Tips
Real Estate
In the 1988 comedy movie Coming to America, Eddie Murphy's character Prince Akeem decides that the best place to find a wife is Queens.
It's a funny moment because of the play on words and the expected differences between where the character lives and what NYC was like at that time.
Living in Queens today is an entirely different experience. You can find some great neighborhoods, buildings, and apartments to call home!
Here are some of the best places to consider if you're looking for a new place to live.
Where Are the Best Places to Live in Queens?
1. Bayside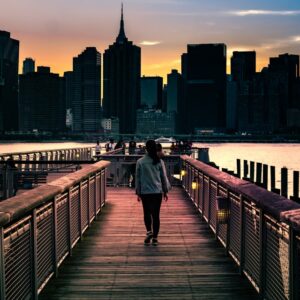 With an average rental price of $2,300 per month, you'll find this neighborhood is one of the most affordable places in NYC. It's about 30 minutes via the LIRR to Penn Station, and the reputation of the public schools is fantastic. You'll see tree-lined streets throughout the area, and you've got easy access to Bell Boulevard.
2. Forest Hills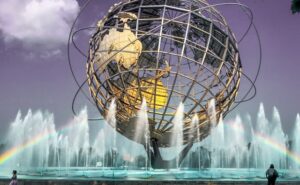 This neighborhood highlights the benefits of living in central Queens. Although the rental prices are higher, the median home price is typically less than $500,000. You can make your way to the subway relatively easily or catch an LIRR line. It's a great spot where lots of outdoor activities and parks are available, along with a mix of condos and apartments.
3. Bellerose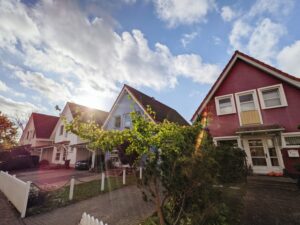 If you prefer the suburban lifestyle for your family, this Queens neighborhood delivers one of the best experiences in the borough. You'll find great schools, quiet streets, and lots of kid-friendly activities awaiting your arrival. Rentals are scarce here, which means you'll need to find a condo, row home, or single-family dwelling when it hits the market.
The only negative is that the neighborhood doesn't have a subway connection. As a result, it'll take more than an hour to get to Manhattan using public transportation.
4. Flushing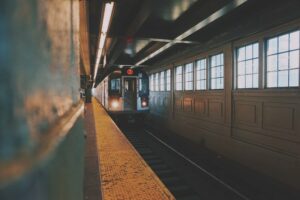 When NYC's culinary scene is what you love the most, it makes sense to find a home in this Queen's neighborhood. The prices are about the same as in Bellerose, but you'll find more apartments available. In addition, several excellent Asian and fusion restaurants are in the area, along with fun karaoke bars and easy connections for your commute.
5. Sunnyside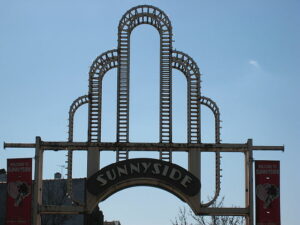 This neighborhood is just east of Long Island City. It's one of the few spots in NYC that still feels like a small town, even though you live with about 20 million other people in the same region. Rentals can dip as low as $2,000 per month here, while home listings sometimes fall below $400,000. If you want to reach Midtown, it's only 15 minutes away.
You'll find lots of local shopping options, a few bars in the area, and lots of small local restaurants to try.
6. Ridgewood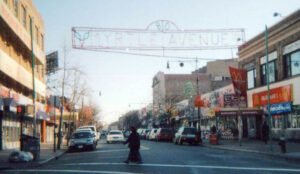 If you prefer city living over finding a place to settle and build roots, you'll want to consider finding a home in this neighborhood. It's along the southern border of the borough, so you'll get lots of Brooklyn influences to make it unique. If you love bakeries, galleries, and easy access to the city's amenities, life will feel perfect here.
Rentals in Ridgewood tend to be in the $2,200 range, but you can expect most hoses to sell for seven figures. It's about a 25-minute ride on the M to reach downtown Manhattan.
7. Astoria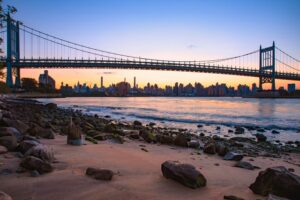 You can live directly east of Midtown if you find a home in this beautiful Queens neighborhood. It has become the place for young families and career-orientated professionals who want fast access to Manhattan. In addition, it has lower rental costs than what you'll find in other boroughs with more space. Can you imagine a riverfront view going for $2,500 or less anywhere else while staying close to everything you love about the city?
If you work in Manhattan, the commute can be as little as 15 minutes.
Why Choose Queens as the Next Place to Call Home?
With 178 square miles to explore, you'll find dozens of different neighborhoods to consider in Queens. Each one has something unique to offer, which is why your needs should drive the eventual decision.
The pace of life is slower in Queens, but you still get the attributes that make Manhattan or Brooklyn an attractive choice.
Expo Movers is here to assist if you're ready to make a move to Queens. With competitive rates and convenient scheduling, you'll find our services are professional and affordable. Let us know what we can do to help you enjoy your new home!
SHARE