Life is taking you away from the Big Apple and to the Windy City. Although the personalities of these two great American cities are quite different, you'll find plenty of exciting opportunities to enjoy in Chicago.
Before you get there, it's important to know what the cost of moving your stuff will be for your budget. If you're making your way to the Midwest, Expo Movers can provide a competitive quote for this exciting transition!
Although every situation is different, here are the general costs to expect when moving from NYC to Chicago.
How Much to Budget for a Move to Chicago?
The median cost to hire professional movers for your relocation to Chicago starts at around $2,500. That figure represents what it would take to move the belongings found in the typical studio or one-bedroom apartment.
That cost rises when you have heavier items to move, such as a piano. If you need extensive furniture disassembly and reassembly services, you'll see a higher cost. White glove moving services also tend to be more expensive than a regular move.
You can save some cash by booking a shared move to Chicago. That means you'll share a truck with one or more households in your relocation from NYC to Windy City.
It costs more to hire a truck for exclusive use, but that investment can often reduce the turnaround time for the transportation portion of this cost.
Unless you have extensive items to move, most projects are $7,500 or less. If you're only hauling a few things, you might get the price under $2,000. The only way to know is to ask for an accurate estimate.
What Are the Costs to Consider When Moving to Chicago?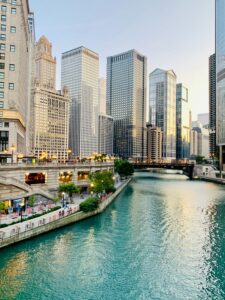 Although the best way to know what to expect for your moving costs is to request an estimate, you can make an educated guess by taking specific prices into account.
Here are some of the categories to consider if you're trying to budget for a rough estimate when moving from NYC to Chicago.
1. Travel Fees
You'll need to account for labor and fuel costs when moving to Chicago. Although gas prices tend to get cheaper as you get closer to the Midwest, the economy's current state will dictate some of these charges.
You can save several hundred dollars by having the average price of fuel for the trip drop from $4 per gallon to $3 per gallon.
You will also pay the labor costs of having someone drive the truck for you to Chicago and back to NYC. If the moving company has someone moving from Chicago to NYC, you might be able to negotiate a lower rate here.
2. Your Stuff
One of the most significant factors determining how much you'll pay during a move is the number of items going on that journey. NYC-to-Chicago qualifies as a long-distance move, which means you can expect to pay $0.70 per pound or more as a rough estimate.
That's why choosing the essentials for this trip is worthwhile. It might be cheaper to purchase a new sofa in Chicago than to move your current one with a decade of use.
3. Storage Costs
When a gap exists between your move-in and move-out schedule, it might be necessary to pay for storage services. The rates can vary based on the provider and your unit size. It's also more expensive to have a climate-controlled area to use.
Most people can budget these expenses to be about 10% of the overall moving cost. That means a $2,500 move would want to add another $250 to the price of storage if necessary.
4. Add-on Services
If you want to have some extras available for your move to Chicago, you'll pay a little more for the added convenience. Some of the most requested services our team receives include packing and unpacking, TV mounting, and picture hanging. If you're creating a rough estimate, you can expect this cost to be 10% after storage, so a $3,000 move would have $300 added to it for the different options.
Moving to Chicago can cause a little culture shock at first, but it can also be an incredible experience. The city's jazz influences, combined with its Polish heritage, create unique opportunities to explore. Midwest living also tends to be cheaper, which means you can afford more space than in NYC.
If you've got this move planned soon, call Expo Movers today so that we can get you onto our schedule or offer a no-obligation estimate!