How to Handle a Newborn When Moving
When it is time to move into a new place, the stress and anxiety that come with this life change can be enormous. Even when you hire professional movers to handle your belongings' physical logistics, you've still got a lot on your plate.
Moving requires you to file your change of address forms, update your identification, and notify all of your different credit card issuers and bank account providers. Everything that you use daily needs new information about where you live.
If you have a newborn in the home and find yourself needing to move, the stress and anxiety can get cranked up to 11.
Here are some ways that you can get through this time without losing your mind.
1. Stick to Your Routine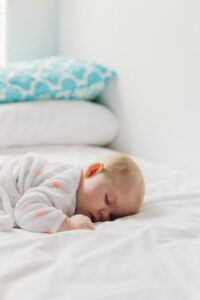 Newborns need a routine. Although you might have a lengthy to-do list to complete, your baby loves your daily schedule's consistency. Instead of trying to pack everything in a couple of days, extend the time over 3-6 weeks so that you can use nap times and an earlier bedtime to get things done in stages.
2. Create a Calendar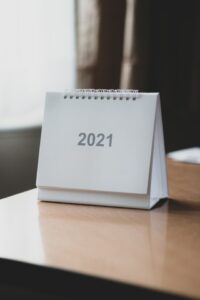 Your head will start spinning with a little one at home and all of the moving responsibilities you need to handle! If you create a calendar that lets you stay on schedule, it'll be easier to break down the work you need to do one step at a time.
3. Take Advantage of Childcare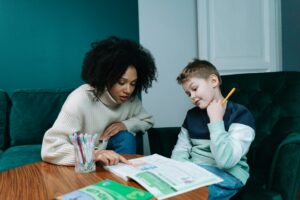 When moving day arrives, it helps to have someone who can watch your little ones. If you don't have friends or family in the area, consider hiring a babysitting or nanny service that employs well-vetted professionals for this task.
You might find that these services can also help you finish your packing in the final run-up to your moving day.
4. Speak with Your Child's Doctor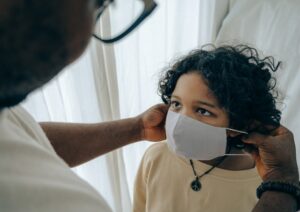 Take advantage of your pediatrician's expertise when moving to a new home. If you have a long-distance move to manage, ask them how to keep your little one happy in the car or on a plane. Since you'll need your child's medical records, including their vaccine information, it's an excellent time to get copies of everything during this appointment.
If your child takes any prescription medication, you can ask your pediatrician to have the items called into the pharmacy you plan to use near your new home.
5. Pack Your Baby Bag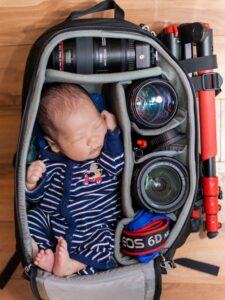 That nursery bag gets packed with about half of everything you own to keep your little one entertained while traveling. When you move to a new home, you'll want to have enough supplies to last for at least 72 hours. After arriving at your place, there might not be fast access to diapers, pacifiers, or a favorite toy, which means you'll want it within reach to ensure some peaceful moments.
6. Unpack the Nursery First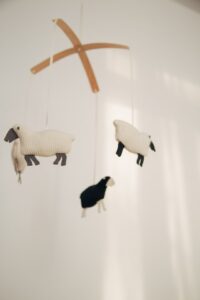 Once the movers arrive, your first job is to set up your nursery. If you're moving with a newborn, you might ask that this room be the last one on the truck so that it can be the first one that comes off. As the rest of your items get unloaded, you can put together the crib, get all of the comfort items that encourage sleep, and re-establish your routine immediately. Your goal is to create as much familiarity as possible.
7. Create a Safer Home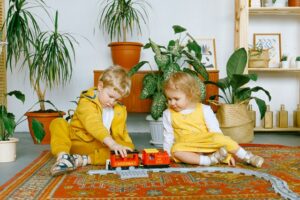 After you have your newborn settled, it's time to evaluate how safe your new home is for everyone. If you start crawling around the floor, you'll get to see the world as it looks through your baby's eyes when they become mobile. You'll want to protect outlets, sharp corners, and similar hazards that could interfere with their health. If something looks like a choking hazard, it probably is one and should get removed.
8. Test Your Alarms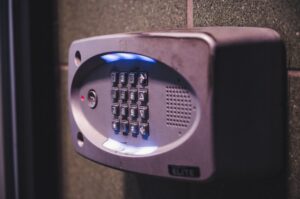 Unless you are moving into an older home in some areas, you'll need working carbon monoxide detectors at the new place. Every house, apartment, and condo should have working smoke and fire alarms. Although you don't want to test them when your little one is sleeping, these protective technologies should get reviewed as soon as you can after moving.
As a final step to your moving process, it helps to unpack mindfully. That means you'll want to lock up your medication, cleaning supplies, alcohol, poisonous house plants, and anything else that's potentially toxic. Store all of these items out of the reach of those little hands. Now that you're starting this next chapter in your life having the first pages be about the safe home you've created can ensure you have room for your kiddo to learn, play, and grow.
SHARE