Moving from Florida to New York
Categories:
Interstate
Long-Distance
Moving Tips
If you're coming back from the sunshine of Florida to the opportunities that New York offers, you've got over 1,200 miles to move your belongings.
Although Florida offers several cost-of-living benefits and warmer weather, it isn't the right spot for everyone. You might even trade your time between the two states to follow the sunshine!
When you make the FL-to-NY transition, professional moving services can help manage the 20-hour journey with less stress. Here's what you need to know about this interstate relocation experience.
What to Expect When Moving to New York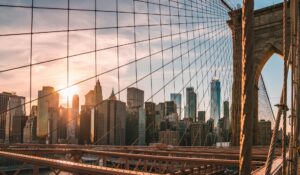 If you move between NY and FL each year, you'll know what to expect with this transition. When you're headed north for the first time, the switch can bring some unexpected advantages and disadvantages to consider.
Benefits of Moving to New York
Concerns of Moving to New York



You are moving out of the primary hurricane zone in the United States to a place where all four seasons happen.


The opportunities you can find in NYC are some of the best on the planet today. If you can make it in that city, you can be successful anywhere.


You have the option to live in big cities or small towns. One of the best regions in the Hudson Valley allows you to experience the best of both worlds.


NYC is considered one of the safest large cities in the United States, especially when you stick to the main streets.


You'll get to enjoy access to some of the world's best cultural opportunities in the state, including Broadway shows, MoMA, the Met, and bodega culture.


NYC is a place that never sleeps. You don't realize how much of a perk this is until you don't have access to it. Tacos or pizza at 2 am can be a good thing.


You have access to public transportation for almost everything. Although a few areas are out of reach, the monthly metro pass is one of the best deals you can find for getting around in NYC.


With the different cities, towns, and neighborhoods, there's a place that feels like home waiting for you right now.





Winters have less sunshine, more snow, and the chance to experience extreme storms that leave several feet of snow.


You're losing access to the southern charm and supportive neighborhood communities that encompass all areas of life when you leave Florida.


Your tax responsibilities and cost of living could be significantly higher.


If you have a driver's license, you'll need to exchange it within 30 days of moving.


It's not only the rent or real estate prices that cause prices to surge in NYC. The average cost of a cocktail in the city is over $20 before tipping. Everything from groceries to haircuts costs more.


If you don't like mingling with a crowd, you'll need to move to one of the more rural areas of the state, where fewer cultural opportunities exist.


Trying to find an apartment in NY's bigger cities can be a challenging experience.


More people are leaving the region than coming to it, which means it isn't always easy to find a professional moving company.


What If I Need to Exchange My Driver's License?
If you need to exchange your driver's license, you'll need to fill out an application form and follow its instructions. It is valid for five years once it is issued.
You can exchange an FL license for one issued in New York if it meets the following conditions.
It has your photograph, is valid, or expired within the last two years.
You've never had it revoked, suspended, stolen, or lost.
It isn't marked as being non-transferable or non-renewable.
You had it issued at least six months before applying for one in NY.
Are You Ready for the Opportunities that NY Provides?
When you move from Florida to New York, it helps secure your new home before hiring a professional moving company. It isn't always easy to navigate the COVID-19 restrictions, health regulations, and leasing expectations in some state parts.
Hiring a reliable moving company reduces the risk of having your relocation logistics become overwhelming. It helps to get at least three estimates before deciding on the movers you prefer.
It also helps to start packing early. If you rush through the process of moving from FL to NY, you'll have a better chance to remember everything, research movers, and find the perfect place to live.
SHARE