How to Pack Fast and Move Quickly
Categories:
Moving Tips
Packing
It doesn't matter how many times you've moved to a new place. It always takes longer to pack up your home than you think it will
If you want to have a fast and productive experience, then you'll want to begin this process up to four weeks before your planned moving day.
Start with the items you use the least, and then work your way up toward your critical belongings that you'll need up to the day of the move. Once you have the correct timetable in mind for this work, you can begin the effort of packing in earnest.
Best Ways to Pack Before Moving into a New Place
The best packing strategy involves marking the boxes that you'll need first in some way. You could label them with a star, a "Day One" notation, or any other symbol or word that communicates what is inside the box. You'll want towels, sheets, a change of clothes, and toiletries available in these boxes.
Here are some more packing strategies to follow
1. Create a packing room.
Choose an area of your current home that can serve as a packing station for your items. You'll be keeping your packing tape, bubble wrap, empty boxes, and other moving supplies in this area so that it doesn't begin to wander off and get lost.
2. Try to find used boxes.
Look for boxes at local businesses that you could use for your move. Bookstores are an excellent resource because of the strength to ship that much weight. Liquor stores can be a resource for dividers so that it is easier to pack your mugs and glasses.
3. Use small boxes for heavy items.
Large boxes usually get packed with heavy items. Try to use the smallest package possible for the things you need to move with significant size. It will prevent the packing materials from breaking, and your movers won't be struggling with 100+ pounds of weight to get on the truck.
4. Keep your drawers full.
Instead of emptying your dresser or desk drawers, leave them whole. If there is too much weight during the moving process, you can take them out (while still full) and then put each one back after getting the item on the truck. You or your movers can wrap the furniture at that point to protect it.
5. Have lots of trash bags ready for the move.
Boxes are useful when packing because they can stack. However, if you have many delicate items that are not fragile, consider using trash bags for your move. This option lets you fill out spaces and shapes that your furniture and other packed items can't manage.
6. Keep your hanging clothes on hangers.
Keep your closet full of hanging clothes on their hangers. If you want to protect them, use trash bags to cover items by placing the hook through the bag's bottom. Then lie each item flat in your vehicle or on top of your things. This process allows you to hang everything up in your new place right away.
7. Label boxes on multiple sides.
Boxes tend to get a label on the top or along one side. This work helps you know where specific items should go, but you can also waste a lot of time spinning a box around to see what it contains. Mark them on at least two sides. Then make sure to label anything that is fragile so that you know to be careful with the item.
8. Load your boxes and the truck strategically.
You can usually maximize space when packing by keeping the most substantial or cumbersome items in the front of the truck on the floor. This same rule applies when packing. If you place heavy objects on top of lighter ones, you'll create a squishing effect in the box. Then pack as tightly as you can to minimize movement during the move.
Are You Packing Up to Move Right Now?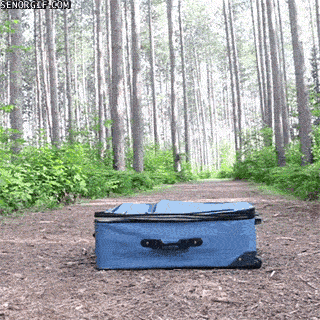 Moving can be a challenge, but it is also a lot of fun when you have a strategy to follow. It also helps to keep a positive attitude throughout the process whenever possible. If you think that you're going to be miserable, then you probably will be.
It also helps to remember that you don't need to take everything with you. For example, if you have older items that you rarely use, selling or donating them can make your move a little easier. Then remember to pick the best moving day to save some money so that you have more to spend on your new place!
SHARE